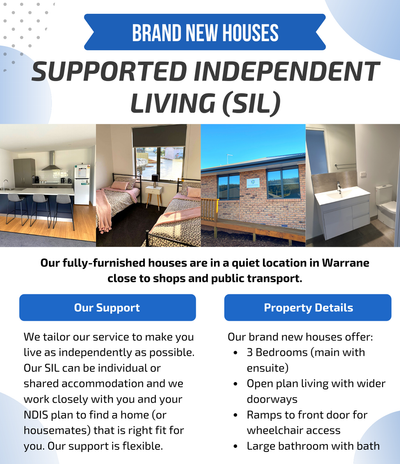 Our Supported Independent Living (SIL) services aim to assist individuals with disabilities in achieving independence and autonomy in their homes and communities. Our team of experienced professionals is dedicated to providing customised support that caters to the unique needs of each individual we serve.
Our SIL services encompass assistance with daily living activities such as meal preparation, personal care, and medication management. We also provide support in transportation, errands, and other activities that enable individuals to maintain their independence and participate in their communities. Our team is trained in assistive technologies and collaborates closely with individuals and their families to provide tailor-made solutions that meet their specific needs.
Additionally, we offer specialised services for individuals living with dementia and other cognitive impairments. Our team is trained in specialised care techniques and closely works with individuals, their families and healthcare professionals to provide solutions that meet to the unique needs of each individual.
We are committed to providing the highest quality of care and strive to empower individuals with disabilities to achieve their goals and aspirations. If you or a loved one requires support, please contact us to learn more about how our Supported Independent Living services can assist you.